ASO MILL Blog
Garden design ガーデンデザイン
2022-06-13
by
David
庭の作業がすごい時間かかったが、やっと終わりました。写真日記で見ましょうか。。。

It's taken a really, really long time, but the garden has now been mostly completed! So let's take a look back at how it first looked 3 years ago...





▲ 2019年:買った頃の状態。あっちこっちに小さい木とジャングルのような植物が多かったです。家の正面はほとんど見えませんね!
This is how the house and garden looked back in 2019, when I first bought the property. Most of the ground floor is hidden behind loads of small trees and jungley shrubs!


▲ 道から見ると大きい窓も見えないんだ!
This was the view from the street. You can't even see the 4 large windows that now lead onto the deck!


▲ 家がよく隠れていますね。やはり買いたい方は少ないと思う?
It's not really a surprise that the weeds all grew up so fast in 3 years of abandonment, and also not really a surprise that nobody else wanted to tackle the project!


▲ 現在デッキがあるところにレンガの花壇もありました。
This was the original view of how the side of the house looked. The brick and concrete flower beds all needed to be smashed apart before I added the deck there.


▲ 2021年夏: 中のリフォームがほとんど終わりましたので、家を赤にペイントしました。そして、デッキを作ったときにも植物を一応切ったが雑草が多かったですね。
右側にある植物が全部竹でしたので、まずはそれを抜きました。
Jumping forward two years, this was how the house looked in the summer of 2021. The interior had mostly been completed, the deck had been built around the front and side of the house, and the house had been painted red. I cut back most of the shrubs and small trees while I was building the deck, but it's still a mess!
The area to the right of the steps (where Katie is standing in this photo) was a big thicket of young bamboo, and it took quite a bit of work to dig down deep enough to pull out all those root systems.


▲ 2021年秋にこっちに芝生の種を広げましたので、数か月後にこんな感じになりました。大満足!
Once the bamboo thicket had been removed, I seeded the soil with grass seeds, and after a few months and a few more quick bouts of weeding to remove the last of the tough bits, the grass popped up nice and thick.
So I was very happy with that, and it was time to move on to the rest of the garden!


▲ 2022年春:やっと道揃えの庭から根を抜けました。34本の木根もあったので結構時間かかった。
In the spring of 2022 I started work on pulling all the tree roots and bushes out. I counted 34 root balls in total, which were a pain in the ass to remove! Many were over half a metre deep and wide!


▲ そして、約1トンの石も拾いました。過去にはあっちこっちに置いていたみたい。
In addition to the backbreaking process of removing roots, I also shifted about 1 ton of random rocks, which had been buried at various locations around the space - I think they were used to mark paths and edges. They were also a complete pain to dig out and haul away!


▲ 根と石を取ったら、好きな紅葉を買いました。愛車が軽トラックのように便利だった!
With all that mess removed, I could start adding in a few young saplings. I love Japanese maples (acer), especially in autumn, so I found this beautiful red one at my local DIY store, and got some very funny looks driving it home in my .... er..... multipurpose pick-up truck!


▲ 2022年夏:紅葉を道ぞろえに植え付けてから芝生の種をまきました。ちょうど梅雨の前ですので、いいタイミングだ!
Finally, by the summer of 2022, the land had been more or less flattened out, and a few small maple trees added. Then it was time to sprinkle several bags of grass seeds around, and wait for rainy season to start!


▲ 道から見るとこんな感じ。。。緑になったら最高!
Here's the view from the road, looking north. Hopefully all that brown soil will turn to green grass in a few months...


▲ 杉の間にハンモック!
After relocating that green maple tree nearer to the road, I was able to string a hammock between the two giant cedar-pines.


▲ 緑色と赤い紅葉が大きくなったら、素敵だと思う!
I'm hoping that these maples will grow up and spread out nicely, to make a gorgeous autumn canopy of greens and reds.
▲ 種をちょっとずつまきましたので、まだ植えている線が見えますね!
とりあえずこれで行こう!あとは雨を待つしかないです。
As you can see, the grass seed has been added in patches, but hopefully the lines between sections will disappear soon?
I think I'm done with the garden for the moment, but I'll add some flower beds along the side of the deck at some point, and start growing herbs and flowers there. But that's a job for next year....
Tags:
garden
庭
---
Making a shop stamp 店のスタンプづくり
2022-06-11
by
David
アトリエの店をもうすぐでオープンしますので、お土産として小さい3Dプリントでできている商品をこれから準備します。お土産ならちゃんと袋なども用意しないといけないので、店名・ロゴが入っているスタンプを作ってみました。
I'm planning to open the studio as a little shop shortly, so I'm currently trying to get things ready for that. In addition to a basic register and music system, I need to prepare some simple bags for anybody buying small items. The local 100-yen shop has excellent small plastic and paper bags, and I wanted to see if it was possible to create a logo stamp using the 3D printer....





▲ スタンプは6cmほどになりますので、ロゴのデザインをちょっと変えました。そして、3Dプリンターでこのスタンプを作りました。もちろん反対に作らないといけないので、これはちょっと失敗でした。でも形がフラットですので、きれいに押せないんですね。ゴムじゃないから、形がちょっと丸く作らないとね?
The stamp needed to be about 6cm to fit on the stamp pad, so I had to simplify a few elements of the logo so everything was slightly blockier and larger. Then I set the printer to work on this stamp (which I forgot to reverse - oops!). It worked okay, considering it's printed in hard plastic rather than rubber, but it was hard to get uniform pressure everywhere when pushing down on the stamp.
▲ バージョン2.0です!ちゃんと逆にした上で、ちょっとカーブがある形にしました。これでゆっくりロールしながら押せるかな?
So I created this second version of the stamp, which (in addition to being reversed properly) was put onto a curved block. For those interested in designing a stamp like this, it's was actually surprisingly easy - 10 minutes to create a large cylinder in 3DBuilder, then slice a chunk off, and then emboss a PNG file of the logo onto the curved surface. Much, much easier than I expected!
▲ まぁ、これで行けるかなぁ?
This was the end result. Not perfect (a couple of places were too thin to print and stamp clearly), but I'm happy enough with that.
▲「乙姫」て書いているランタンを準備しました。ボタン電池とLEDのセットですので、子供でも簡単に作れるお土産商品となります!
I've designed a new version of my popular lantern model, with the kanji characters for "Otohime" written on one side, as a little souvenir item. I'm planning on selling this as a set with an LED bulb and button battery, simple enough for kids to quickly push it together and have a flickering lantern on their desk! With the logo-stamped bag it looks cute!
Tags:
studio
アトリエ
---
Studio Displays アトリエ展示品
2022-04-13
by
David
今日はアトリエの展示品を見せようかなぁ!
The house and studio are completed (for now!), so I thought today I'd show off a few pics of the items on display downstairs.




ドアを開けるとこんなもんが並んでいます。。。
Ironman greets you as soon as you step in the door.




戦国時代の模型モデルがメインですが、これからアイアンマン仮想などの作品も展示しようと考えています。
Most fo the items currently on display are the historical architecture models, as I'm super proud of those!




本物の甲冑もありますね!
Turning to your left, a genuine suit of armour sites in the corner, and Katie the dog will be barking to greet you too!


只今、お寺の作品がいっぱいです!ぜひどうぞ見に来てください。
So many temple pieces on display at the moment! Come take a look!
Tags:
studio
アトリエ
---
Otohime Cherry Blossoms 乙姫の桜
2022-04-06
by
David
家から歩いて2分で桜の道が咲いています!素敵な景色の中で、桜のトンネルになっています。ぜひ、「乙姫子安河原観音」への道を見に来てください!
Just 2 minutes walk from the house is a small, winding road leading to a shrine, which looks stunning every spring. Woods on one side of the road, and rolling fields and a view of Aso volcano on the other side, the cherry blossom tress make a tunnel of light pink blossoms at the start of April.




I couldn't resist taking a couple of pics of the car on this picturesque road!


Tags:
sightseeing
観光
car
車
---
Sofa backs ソファ作成
2022-04-03
by
David
1階のアトリエ/リビングがあとちょっとだけです!ソファの後ろに壁掛けクッションを作ろうと考えています。
The first floor's main room, which I'm using as a studio display space most of the time (but also as a large living room when friends visit) is very nearly finished now! The last thing I need to do is add some back cushions to the long sofas.


▲ 安い板と2x4でクッションのボディを作りました。
I decided to make long cushioned boards, to hang along the walls above the sofas, so I started with some cheap plywood and cheap 2x4s to make the body.


▲ 次は壁に掛ける「フック」を作りました。板を斜めに切ると簡単な「French cleat」のフックを作った。
Next I needed a way to hang these long cushions on the wall, so I cut strips at a 45 degree angle, in what's known as a French cleat.


▲ 半分をクッションの裏側に付けると。。。
I attached the bottom half of each strip to the wall....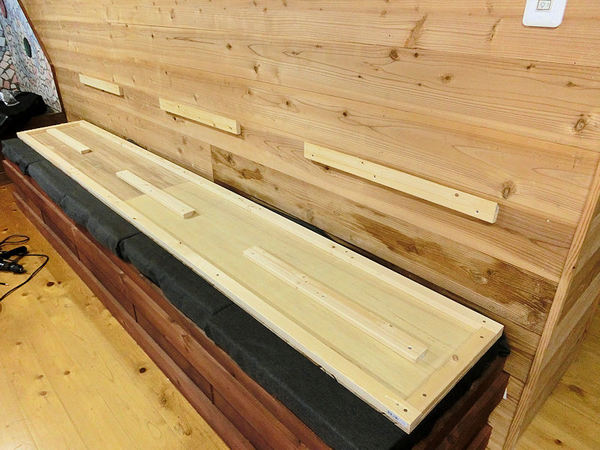 ▲ 。。。残りの半分を壁に付けます。
... and the top half of each strip to the back of the board.


▲ 載せるとこんな感じ。
Then it's easy to drop the board into place, and the angle of the cut will push the board tightly against the wall. Simple!


▲ ダイヤモンドのパターンでボタンもしたかったので、ボタンの穴位置を書きました。
I also wanted to make a diamond pattern with buttons, like those you find on bed headboards, so I marked a diamond pattern of holes....


▲ ドリルで穴を開けて、ボタンの糸を通れる穴になります。
... and then drilled them out. The string for each button would pass through each hole.


▲ クッション用の綿が結構高いみたいですので、要らない断熱材を使ってみました。上に座れるクッションであれば、絶対利用できないんですが壁に付けるタイプであればどうかなぁ?
Next came the padding. I found that cotton or sponge stuffing is very overpriced in Japan, especially for something as long as these backboards (almost 3 metres each!), so I chose to try using some leftover rolls of fibreglass insulation material.
This wouldn't work for normal cushions, because they'd deform when sat on, but it should work okay for cushions just hanging on the wall. I hope?!


▲ 人工革の布を店で見つけました。裏側にホチキスで固定しました。
ここでとりあえずボタンなしでやってみます。数か月後にボタンを付けるかもしれませんが、しばらくこれで行こうかな。
I found some good quality fake leather in a material shop, and stapled it on the backside, around the edges.
At this point I decided to leave off the diamond pattern of buttons for now, and see how they look without. I may revisit this at some point and add the buttons, but for now it will do fine!


▲ 壁に掛けるとこんな感じになりました。やった!
So instead, I just slipped the boards back on their hooks, and it was done!
▲ とりあえず、1階のアトリエ部屋が完成!いい感じでしょう?
So for the moment, the room is now finished, and I think it looks awesome! What do you think?
Tags:
studio
アトリエ
---
MORE >>