ASO MILL Blog
COW!!
2021-05-08
by
David
1階の床はちょっと寒いので、ラグを買いたかったんです。阿蘇の自然の中には牛のラグが似合うと思ったので、まずはイケアの牛革を探していたが、なかなかいいのはなかった。
The downstairs hall edges closer to completion, and I wanted to add some extra warmth and comfort to the interior. So I decided to look for a large cowskin rug for the floor, but I was unable to find any interesting ones at Ikea - they tended to be one-tone dark brown or black.


この2平方メートルの牛革ラグをEbayで見つけました。ブラジルの販売店「hype_deco」からたった7,600円で買いました。送料は3500円でした。ケイティちゃん(犬)が好きそうですね!
Happily, I thought to try Ebay, and found this wonderful quality 2m² rug from a Brazilian seller 'hype_deco' for only $70!!$30 for shipping was pretty reasonable too, I thought, and certainly beat the $300+ pricetag you might expect to find in Japan. Not only is the quality superb, the brown and white pattern is so much more interesting to the room's scheme. It even looks vaguely like Katie's fur!
---
Fireplace mosaic tiles 薪ストーブでモザイクタイル
2021-05-05
by
David
すっと前からこの作業を楽しみにしていました!薪ストーブの後ろにある壁の上に防熱シートを付けましたが、高熱に強いタイルも張りたいです!ただし、人生に一度しかできない作業ですので、普通のタイルならチャンスはもったいないよね?モザイクタイルでユニークなデザインを作りたいです!
A fun little activity this, so I'd been looking forward to it quite a bit! It was time to finish up the logstove area of the downstairs hall, by tiling the back walls behind it. But I didn't want to waste this opportunity by tiling the walls with neat, boring lines - instead I decided to try some mosaic tiling!




▲ 楽天の余剰タイル店で色んなタイルを買ってみました。サイズと色はバラバラでしたので、いいかなぁと思ったんです。最初にはタイルをハンマーで割れました。
Hmmm. Mosaic tiles in Japan are stupid expensive, especially for an area this large. So I decided to make my own, and ordered a variety of pale blue and pink tiles from a Rakuten store online, then had some fun carefully smashing them into smaller pieces with a hammer!


▲ タイルのアレンジは一応床にしてみました。デザインには4枚のグラス皿も入れたいので、適当にアレンジしました。
To ensure I got the right balance of colours (and quantities of tiles), I drew out the lines on cardboard and arranged them there as a test. As some extra focal points I also added some glass dishes with metallic flecks that I had purchased online.


▲ じゃ、これで行きましょう!
Looks good to me - time to start transferring the design to the wall!


▲ 次は壁にタイル用の接着剤を張って、ちょっとづつタイルを張りました。
I used about 4kg of tile adhesive to cover the two square metres of wallspace, and then started to transfer the tiles from the floor to the wall.
▲ ちょっと時間かかりましたが、やっと終わりました。翌日に灰色の目地材を入れました。
After a couple of hours, and some extra fill-in tiles here and there, everything was stuck to the wall and left to dry. The next day, I used another 4~5kg of grey grout to fill in the gaps between tiles and strengthen everything.
▲ 完成です!ちょっと美術風にできましたので、嬉しいです!
Yay, done! My interior style tends to be a bit geometrical, so it was nice to be able to introduce this rather looser, arty style to the room.
▲ これで薪ストーブの部分が終わりました!
With this job done, that corner of the room is now complete!
---
Bit of painting ペイントの始まり
2021-05-01
by
David
去年、フェイスブックで友達に聞いてみた ー 家を何色にペイントしたらいいの?

家の写真をペイントソフトで変更してみましたので、大体のイメージが作れました。。。

Last year I asked lots of friends what colour I should choose for a whole house repaint, and to help with envisioning all the different colours, I knocked up a few quick paintshop previews....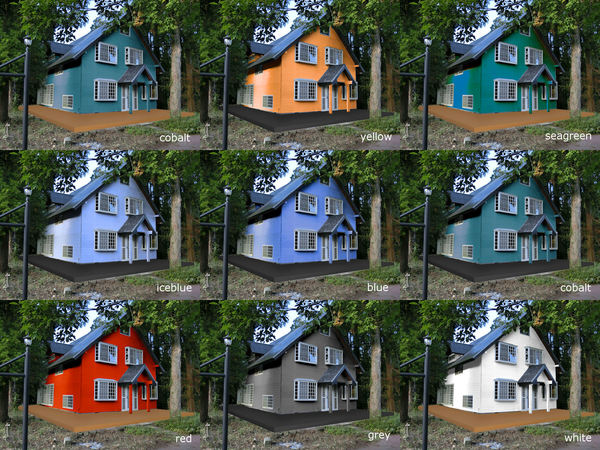 ▲ その時にデッキの色も決まっていなかったので、各色には黒のデッキとブラウン色のデッキバージョンを作った。友達の中で seagreen、red と whiteは人気だったが、結局赤に決めました。明るくて、暖かい感じにしたいですね。
At that time I hadn't yet decided on whether to go with brown or black for the decking, so I produced those two versions for each of the 9 colours I liked best. The most popular colours seemed to be red, seagreen and white. Of course the house is currently white, so that was out, and the seagreen seemed to get lost a little in so much woodland, so in the end I decided to go with a red - vibrant and warm. The actual paint I ordered was a slightly darker red than primary red, after some further playing around in paintshop.
▲ 今月やっとペイントを始めました!大変な作業を応援するために一番大事な正面から始まった。これから足場なども作らないといけないんですが、いかがでしょうか?
This month I finally got the chance to try out the colour scheme for real, by painting the lower section of the front of the house. I reckon it looks pretty cool - what do you think? I started here, just to keep my spirits up while I begin this long process, but I still have to assemble some basic scaffolding to help me reach the tops of the walls.
---
Deck chairs デッキチェア
2021-04-27
by
David
デッキと一緒にBBQセット、ハンモック、8人用テーブルとベンチができましたけど、最後にデッキチェアが欲しいですね。ただし、デッキとデッキ用の家具は全部手作りでしたので、今回デッキチェアを買います!
The deck is now complete, with a surrounding fence, a big BBQ set, a huge 8-person table and chair set, and a hammock.... but to finish it off I also wanted to have a couple of sunloungers at the front.
Since everything else on the deck is fairly cheaply handmade in my slightly wonky "meh, it'll do" DIY style, for these chairs I decided to spend a little money and buy some nice ones!


▲ 何か月もかかりましたが、やっと日本へ送信できる販売店を見つけました。アメリカのEbayから買いましたが、ベトナム製だそうです。2個で送料は8000円でした。
After a few months of browsing chair designs, I found this elegant foldable S-shaped design. After a few more months I finally managed to locate a seller willing to ship overseas (for $80), and ordered a set of two from Ebay. The store was in the US, but the chairs seems to be made in Vietman, from lovely warm acacia wood. I added some sheepskin rugs on top for comfort and warmth on those chilly Aso evenings.


▲ 真ん中のテーブル板がアマゾン.jpで買って、DIY店ハンズマンから25cmの脚3本を付けました。
The cute little side table was a chunk of wood found on Amazon Japan, smoothed and varnished, with some short foldable metal legs from my local DIY store. I think the gentle curves of the table and chairs help to soften the straight lines and edges of the deck and house, no?
▲ 気持ちいいよ!
At last, the deck looks great!
---
Making a deck table デッキ用テーブル作成 #2
2021-04-26
by
David
昨日のテーブル作成の続きです ー 今回ベンチシートを作ります!
Following on from yesterday's blog about building the tables, today I tackled the bench seats to go with it!
▲ テーブルの周りに置きますので、シートも4つに分けて八角にデザインしました。人工木材36枚ほどあります。足りるかなぁ?
Since these 4 seats are going to be arranged around the table, I designed them to match the octagonal shape. I have 36 planks of artificial wood left in the cut-off pile, so I hope I have enough to last the project!
▲ 1個目のシートが完成!あと3個です。。。
The first of the seats goes together quite smoothly, and looked good enough to me. So I cracked on with the remaining 3 seats...


▲ 四つのシートを並ぶと大きいテーブルですね!
At last - done! The finished tables with all the seating!


▲ 電気コンロの場合はこんな感じです!高さ的にちょうどいいですね。
Ready for some casual grill dining! The height of the grill blends pretty well with the level of the table, so you don't see where I broke it years ago!


▲ 普段は二つのテーブルに分けて、柵の横に置きます。今はハンモックしか置いていないんですが、庭が完成したら景色がきれいになると思う。
Normally I'll be splitting the big table into two halves and storing them at the side of the house like this. That way they can still be used for sitting out on the deck, and I'll be able to walk past them and use the open corner of the deck for some sub-bathing deck chairs!


▲ 杉の影がお日様が気持ちいいです。
The afternoon sun comes through dappled very prettily, thanks to the big cedar-pine trees alongside.
早くペイントしたいなぁ!
I can't wait to get started on the exterior painting of the house - the last big job for now!
---
MORE >>